illustrated through events and ecosystems being built upon Colabo.Space
IMPORTANT DON'T MOVE THIS - IT'S placeholder FOR A TOC
Intro
CoLabo.Space is used on multiple international events in Europe, Americas and Asia. It empowered multiple conferences, forums, eco-camps, hackathons, and communities in many countries around the world.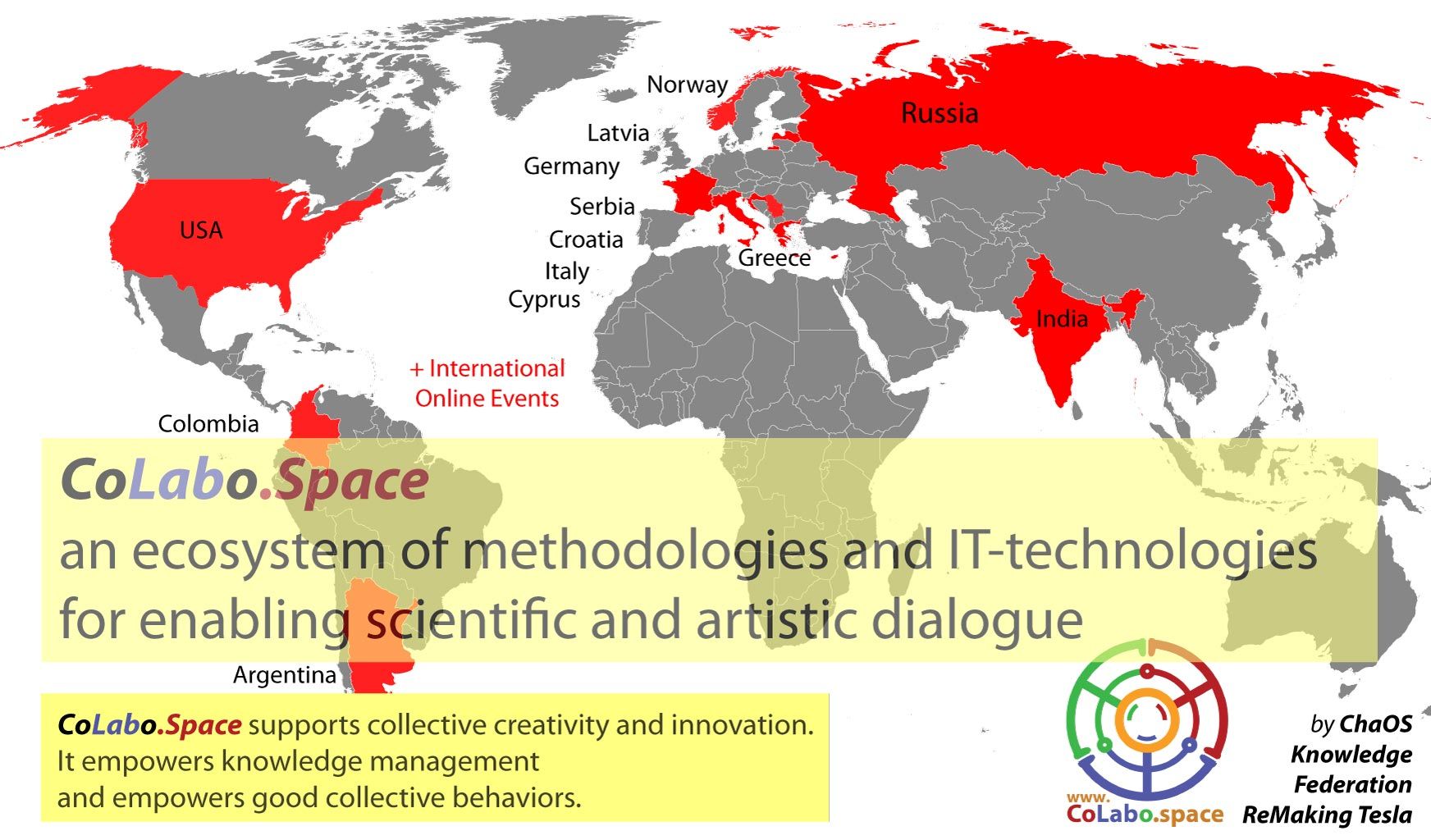 Integration (Apps/Ecosystems built on top of Colabo.Space)
CoLaboArthon
Colabo.Space is a Socio-IT core of the CoLaboArthon.
CoLaboArthon is a framework/initiative for a rapid collective, and interdisciplinary research, education, artistic and collective creation of knowledge, collective awareness, ideas and emotions. Its outcome is a collective piece of art+research, usually performed for a social innovation and change.
CoLaboArthon, and projects developed on top of it, are supported by
Republic of Serbia, MINISTRY OF CULTURE AND INFORMATION and many partners/experts
More at CoLaboArthon.
EcoColabo
EcoColabo is a platform for facilitating European cross-border climate actions and collaborations.
EcoColabo is used at multiple Climathons - the biggest collective climate action taking place in 55 countries.
EcoColabo is supported through partnerships with the City of Belgrade, Chamber of Commerce and Industry Serbia, international organizations, companies and associations from Norway, USA, Russia, Italy, Greece, Romania, Belgium, Croatia, and Montenegro.
Play Sustainability! Edu-Game
an internationally awarded mobile-supported Edu-game featured at several international occurrences.
Participants are learning of and experiencing UN Sustainable Development Goals (SDGs) through solving real-world problems.
More at https://cha-os.org/en/play-sustainability/
LitTerra
LitTerra is a world of literature; a place where readers can explore books and walk through them.
More at LitTerra Ecosystem.
Events (empowered by Climathon.Space)
ReMaking Tesla
International Education Forum for Interactive and IT-Augmented Education.
ReMaking Tesla focuses on development of collective creativity and innovation
It is supported by Republic of Serbia, Ministry of Trade, Tourism and Telecommunications
More at https://remakingtesla.com
Climathon
Colabo.Space empowered multiple Climathons - the biggest collective climate action taking place in 55 countries.
Sustainable Development
Several Sustainable Development events, workshops, etc are empowered by Colabo.Space
More at https://cha-os.org/en/sustainable-development/
IMPORTANT DON'T MOVE THIS - IT'S FOR A DATE
IMPORTANT DON'T MOVE THIS - IT'S FOR TOC